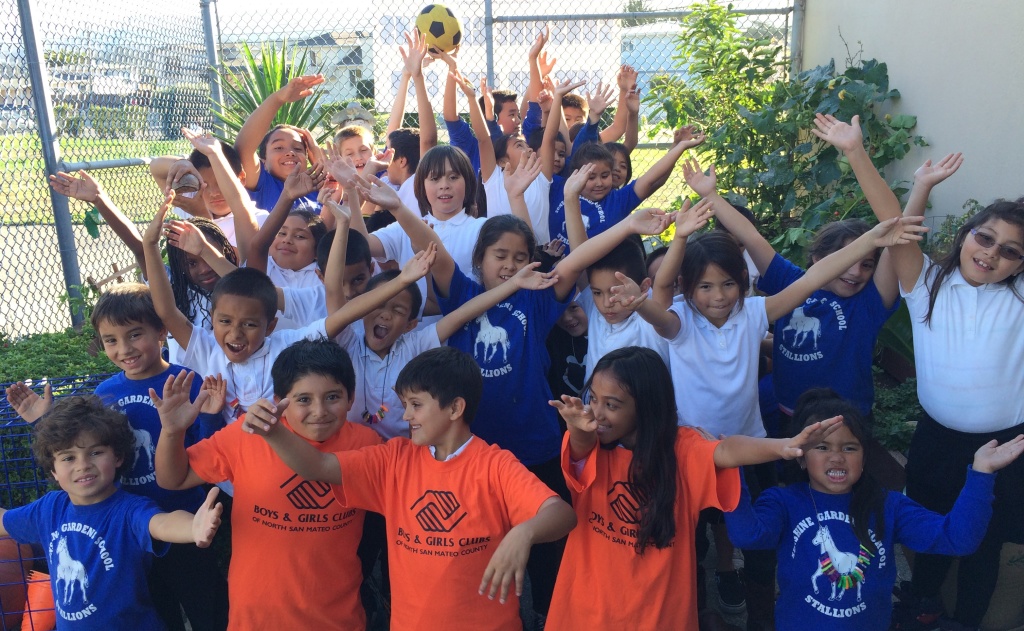 1200 Miller Avenue
South San Francisco, CA 94080
(650) 580-1864
Located on school grounds (in our very own room!) our clubhouse is known for our fitness Mileage Club, getting our homework done, healthy habits nutrition and cooking program, and our very own garden where we grow vegetables and herbs! We also love our "Stone Soup" Thanksgiving celebration with family and friends (yes, using our vegetables that we grow in the garden!). We always enjoy each others' company, learn new things for life and school success, and play and hang out — an overall great "little" clubhouse that members can call their own!
South San Francisco – Sunshine Gardens Clubhouse Program Team
Shellie Occhipinti – Site Director
MEMBERSHIP INFO
Members of this clubhouse must be students enrolled at Sunshine Gardens Elementary
Area high school students are also welcome as peer mentors and volunteers (please inquire with staff for more information about middle and high school membership)
Please Note: this facility has a membership capacity, so early sign-up is recommended; wait-lists are developed if needed, but do not guarantee a spot for your child if room does not allow – please register early!
FEES
Membership fee: $130 per month during school year (sibling discounts may apply; please inquire with staff for more information)
HOURS OF OPERATION
Monday, Tuesday, Thursday, Friday
2:40PM – 6PM
Wednesday (early school release)
1:40PM – 6PM
This clubhouse follows the SSFUSD school calendar for member clubhouse access
Summer Camp and Day Camp programs are provided by our Orange Park clubhouse approximately 1.5 miles from the Sunshine Gardens clubhouse; the Sunshine Gardens clubhouse is closed during the summer months; please inquire with staff for more information
PROGRAMS & ACTIVITIES
Daily healthy snack (grain, dairy, fruit); inquire with staff for any dietary or allergy concerns
Power Hour (homework assistance and completion)
Fitness hour and organized play
"All Play" game or activity every day (for all members present to build camaraderie)
Daily "reading time" for all members present (separate from homework completion)
ADDITIONAL PROGRAMS OF INTEREST
Torch Club, which is member-elected group of 5th grade members only, which builds leadership skills; Torch Club members determines special games, activities, and fundraisers, and lead cooking classes, serve as "bully busters," and are overall mentors for younger members
Extensive outside garden boxes where members grow vegetables and herbs, and harvest regularly as needed
Cooking classes one time per week (all ages), which includes tastings, the "food plate" education, take-home recipes, etc.
Reading Club with tracking cards, incentives, reward parties for reaching reading goals, and monthly topics/themes (all members participate; all ages)
Arts & Crafts projects two times each week (in addition to daily availability for members)
Daily Mileage Club that includes fitness/movement stations along route, necklace charms for mileage completed, and clubhouse-wide mileage goal
Monthly birthday celebrations (acknowledgment of birthdays for the month during member meeting; birthday members receive special treat)
SPECIAL EVENTS
"Monster Bash" Halloween celebration; usually takes place on Halloween night; open to all clubhouse members in SSF and Pacifica; held at the Orange Park clubhouse; includes family and friends
"Stone Soup" Thanksgiving celebration; during clubhouse hours; usually on the last day before school break; includes family and friends in a potluck format
Christmas holiday celebration; during clubhouse hours; usually on the last day before school break; includes family and friends
"Youth of the Year" – members selected by fellow clubhouse members to represent their clubhouse in this local, regional, and national youth recognition program and events
COMMUNITY SPORTS LEAGUES
All league participants must also be registered members of the Boys & Girls Clubs of North San Mateo County (separate fees)
Some scholarships and sibling discounts may be available for athletic leagues
Please see "Pacifica Community Sports Leagues " and/or "SSF Community Sports Leagues" (under the "Clubhouses" tab in navigation above or at bottom of page) for information about how to join athletic leagues offered by Boys & Girls Clubs of North San Mateo County